It's Spring Break! We're having a Disney-themed Easter at my house, and after the Easter Bunny has come and the eggs have been found we're heading out to catch our plane first thing Monday morning. We've dreamed of taking our 3 boys to Disney World for years and it's finally happening this week!
This weekend, I finished Popular: Vintage Wisdom for the Modern Geek by Maya Van Wagenen. I blogged about this book and author last Monday:
From last week's post:
Maya Van Wagenen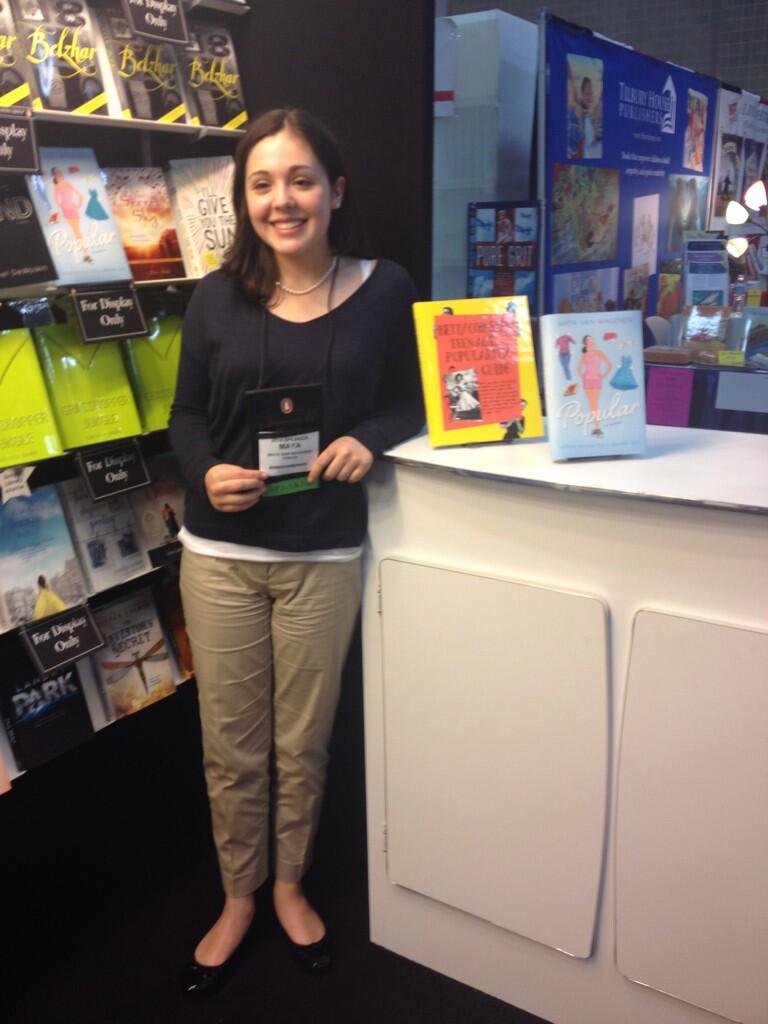 I sat next to Maya at the Texas Tea With Young Adult Authors, which is just what it sounds like! Teachers and librarians sit at tables and young adult authors rotate tables about every 10 minutes, telling us a little bit about themselves and their books. It was only after I heard Maya speak that someone else revealed that she's only 16! I was blown away. She was so confident, poised, and well-spoken. And I can't wait to read her new book! It will be released tomorrow, April 15th.
Plot Summary: "Stuck at the bottom of the social ladder at pretty much the lowest level of people at school who aren't paid to be here," Maya Van Wagenen decided to begin a unique social experiment: spend the school year following a 1950s popularity guide, written by former teen model Betty Cornell. Can curlers, girdles, Vaseline, and a strand of pearls help Maya on her quest to be popular? 
Even better is that she is in touch with Betty Cornell, the author of the 50's popularity guide Maya followed. And there's a brand new edition of the guide being released along with this book! I received an autographed copy of Popular, but I ordered Betty's guide through Amazon and can't wait to get it in tomorrow!
My Review:
So, this book wasn't EXACTLY what I was expecting. I guess I thought it would be more funny, less serious. But it definitely wasn't any less awesome!
Reading Popular definitely took me back to those dark and miserable days of middle school. Like Maya, I was pretty much at the bottom of the social ladder with little hope to ever rise higher. I dearly love teaching middle school students, but you couldn't pay me enough money to BE a middle school student again!
Although much of Betty's advice is absolutely dated (always wearing hats and gloves to church, vaseline on the eyelids, girdles), so many of the life lessons in the book are universal and still ring true today.
Like I said last week, I also ordered and read Betty's book above. Here's some of Betty's advice:
On weight:
Stick to your doctor's advice as to what your proper weight should be. When you reach the figure he has set for you, stop there. Don't try to become underweight on the assumption that you will look more glamorous when you are thin, pale, and wan. 'Tain't so. You won't look glamorous at all – just bedraggled and tired out.
Hmm.. sounds good, right? She doesn't stop there.
If you don't know what foods are fattening, ask your chubby friends, because they will know.
On dates:
Once you have made a date, keep it. If you have no good reason to break a date, other than your own wish to do so, then you should not. Indeed, good manners demand that you must not. Even if it means turning down a chance to do something else you would much rather do, you have got to stick with your original agreement. 
Good manners make it easy for a girl to let a boy feel master of any situation. In a restaurant, it is the boy who pays, who gives the order for the two of you to the waiter, who makes arrangements for the table. Even if you have agreed to go Dutch, you can give your date your share of the bill later, in private. At the movies, if you want to pay your way, it is easy enough to give the boy your ticket money beforehand, inconspicuously. 
Don't criticize or nag. Swearing is not smart. Don't be fooled into thinking that profanity or vulgarity makes you seem like a big time operator. 
On petting:
Petting is not properly a subject for a chapter on good manners. There are, however, aspects of petting that do concern us. Whether or not you pet, how far you go is your own private problem. However, once you are in a public place, what you do becomes a matter of public concern.
I could go on and on with her advice – and read so much out loud to my husband! But, in addition to the old-fashioned stuff that makes you want to share it with someone, much of her advice is good and solid and stands the test of time.
Through the book, Maya figures this out. She weeds through the outdated stuff and finds the right advice that helps her take chances, open up to others, take risks, and eventually make many friends. In April, she makes the bold move of changing seats in the cafeteria each day, sitting with different cliques as if she wasn't breaking the social structure. She even sits with the all-Spanish-speaking boy gang table!
There's nothing in this book that you would want to sensor for 6th grade (or even 5th grade!) girls. I'm getting more copies because I can definitely see this becoming a very popular title among so many of my 6th, 7th, and 8th graders!