First, if you are a TpT seller, please consider donating an item for one of the fundraising bundles I'm putting together for my nephew, Jaydon. It's a happy fundraiser! Read about his opportunity here.
I had a fabulous week at the Texas Library Association Conference! My husband drove in to San Antonio to meet me and keep me company while I was there. We got to do the tourist thing a little, visiting the Alamo (we both LOVE history!) and taking a boat tour of the Riverwalk. San Antonio is a really neat city to visit!
So, back to books! Here are some new books and authors I'm really excited about!
Maya Van Wagenen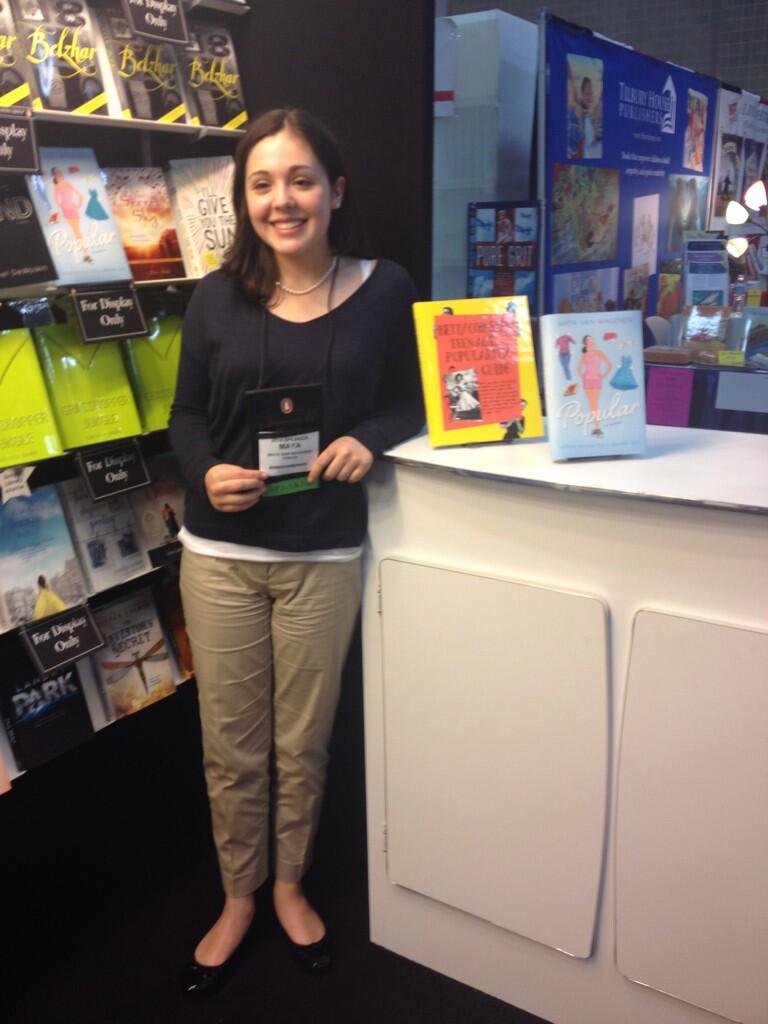 I sat next to Maya at the Texas Tea With Young Adult Authors, which is just what it sounds like! Teachers and librarians sit at tables and young adult authors rotate tables about every 10 minutes, telling us a little bit about themselves and their books. It was only after I heard Maya speak that someone else revealed that she's only 16! I was blown away. She was so confident, poised, and well-spoken. And I can't wait to read her new book! It will be released tomorrow, April 15th.
Plot Summary: "Stuck at the bottom of the social ladder at pretty much the lowest level of people at school who aren't paid to be here," Maya Van Wagenen decided to begin a unique social experiment: spend the school year following a 1950s popularity guide, written by former teen model Betty Cornell. Can curlers, girdles, Vaseline, and a strand of pearls help Maya on her quest to be popular? 
Even better is that she is in touch with Betty Cornell, the author of the 50's popularity guide Maya followed. And there's a brand new edition of the guide being released along with this book! I received an autographed copy of Popular, but I ordered Betty's guide through Amazon and can't wait to get it in tomorrow!
I can't wait to dive in, and of course I'll tell you all about it!
Trent Reedy
Trent was one of six featured authors at a Scholastic event I attended lat week. I believe he was the fifth one to speak, and by then the free margaritas were making me a little drowsy. He came along just in time to wake me up with a very entertaining presentation! He took on the personality of Hank McGrew, a country music singer that a character in his book idolizes, and sang for us. And because you know I love history, I'm excited to read his current and next novels, Divided We Fall and If You're Reading This.
Divided We Fall is his current novel. Here's the summary: Danny Wright never thought he'd be the man to bring down the United States of America. In fact, he enlisted in the National Guard because he wanted to serve his country the way his father did. When the Guard is called up on the Idaho governor's orders to police a protest in Boise, it seems like a routine crowd-control mission … but then Danny's gun misfires, spooking the other soldiers and the already fractious crowd, and by the time the smoke clears, twelve people are dead.

The president wants the soldiers arrested. The governor swears to protect them. And as tensions build on both sides, the conflict slowly escalates toward the unthinkable: a second American civil war.
I also got an advanced copy of If You're Reading This.
Summary: Mike was seven when his father was killed in mysterious circumstances in Afghanistan. Eight years later, the family still hasn't recovered: Mike's mom is overworked and overprotective; his younger sister Mary feels no connection to the father she barely remembers; and in his quest to be "the man of the family," Mike knows he's missing out on everyday high school life.

Then, out of the blue, Mike receives a letter from his father — the first of a series Dad wrote in Afghanistan, just in case he didn't come home, meant to share some wisdom with his son on the eve of Mike's 16th birthday. As the letters come in, Mike revels in spending time with his dad again, and takes his encouragement to try new things — to go out for the football team, and ask out the beautiful Isma. But who's been keeping the letters all these years? And how did Dad actually die? As the answers to these mysteries are revealed, Mike and his family find a way to heal and move forward at last.
I'll tell you more about these awesome reads as I make my way through them!
Next Monday, I'll tell you about my meeting with Laurie Halse Anderson and give away some autographed copies of her books!
Linking up with It's Monday, What Are You Reading?