DATS RIGHT!
Hop over to TpT to download this brand new freebie: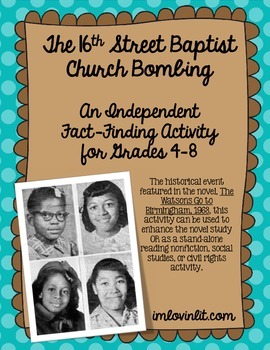 This 20-question multiple choice activity will lead your students on an independent fact-finding mission. Website addresses are provided along with multiple choice questions so that your students can read about and uncover the events of the 16th Street Church Bombing in 1963.
I made this activity for my students when reading The Watsons Go to Birmingham, 1963, but it is not novel specific and can be used any time, specifically with MLK Day and Black History Month coming soon.
Enjoy this Saints Victory Freebie #12!